Cluen's pioneering recruiting technology, our Encore™ Max platform, employs exclusive Searchlight® web portals and RESUME FIREWALL® technology.
Searchlight addresses the unique challenges of conducting an executive search process—speeding interaction with both candidates and clients. This includes:
Secure and easy-to-deploy web registration screens that route traffic through the RESUME FIREWALL® with customizable filter criteria,
Email-driven Searchlight® Surveys for further data gathering from any contact, and

Searchlight® 360, the first-ever executive search "Client Portal," initially deployed in 2003 and, now in its fifth generation, setting the standard for search firm client deliveries.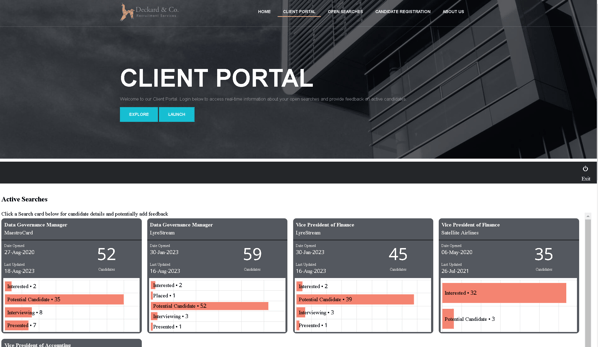 Proprietary RESUME FIREWALL® technology has been proven to support specific search firm business needs, including capturing unsolicited registrations whilst creating an excellent candidate experience and minimizing human processing time by filtering and routing which submissions are eligible for manual review.
Searchlight Survey enables collection of extra data during the registration process as well as any other time in a contact relationship. Any question that you could pose to a group of contacts can be set and deployed to each individually as a web form by non-technical users in minutes. It is a key tool to manage public entity mandates that require open registration of potential applicants and allows for closed campaigns to collect rich data from tight talent pools, mapped directly to your Encore database. Best practices implementations include, diversity self-identification, client/candidate satisfaction surveys, deeper "round two" questionnaires, etc.
Searchlight 360 allows key players in your executive search process to securely access the latest updates regarding their projects including only the specific information selected for their access. This is all achieved through Cluen's latest system of rules-based automation, enabling the whole cycle with little or no end-user effort, and GDPR compliance. No longer spend hours on creation of status reports needlessly crammed into Letter/A4 dimensions. Present reports that include charts, documents, photos, links and (if you want) opportunities for real-time feedback (from star rating all the way to full text scorecard). Even make corrections after you send your updates out! Your stakeholders no longer must choose between "progress" and a "report"—they can have both.
From its original deployment over 20 years ago, Searchlight has pushed the limits of what an executive search professional can do with web interaction. With Cluen's dedication to innovation, it will continue to set the standard into the future.
Visit us at www.cluen.com to learn more.